$29.99
AUD
Category: Craft & Hobby
In The Wild Dyer, Abigail Booth demystifies the 'magic' of natural dyeing and shows how to use the results to stunning effect in 15 exquisite patchwork and stitch projects, including a drawstring forager's bag, an apron, samplers, cushions and a reversible patchwork blanket. Focusing on how to grow or g ather your own dyeing materials - from onion and avocado skins to chamomile and comfrey, nettles and acorns - as well as scouring, mordanting (using fixative) and setting up a dye vat, Abigail explains how to create effective dyes. And once you have them, how you can produce beautiful, contemporary textiles that can then be used to create projects that build on your skills. ...Show more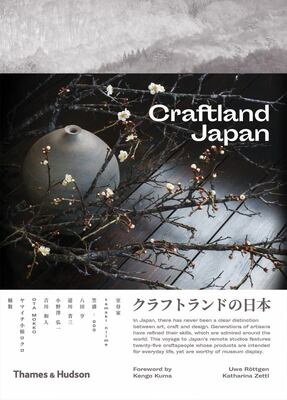 Craftland Japan
by Uwe Röttgen; Katharina Zettl
$49.99
AUD
Category: Craft & Hobby
Generations of artisans in Japan have forged and refined their crafts to become the envy of the world. Each of the country's regions are renowned for specific traditions relating to local materials and the natural world in which they are produced. While tourists and design enthusiasts have long acknowle dged the unique history and quality of Japanese craftsmanship, very few crafts have made their way outside the country, preventing many from witnessing the quality of Japanese workmanship for themselves.With the aim of sharing these unseen treasures with the wider world, designers Uwe R ttgen and Katharina Zettl set out to find the finest examples of Japanese craftsmanship, traveling around the country to document the makers, their workshops, and the landscapes that influence them. Craftland Japan is the result of this extraordinary journey into the heart of Japanese culture.Featuring twenty-five expert artisans, Craftland Japan reveals the techniques and materials that are used to produce a wide variety of beautiful objects, from porcelain bowls to indigo-dyed fabrics to paper. This book is a celebration of how Japan's union of craft, design, materiality, and landscape continue to flourish in contemporary interpretation, however much the world around them has changed. ...Show more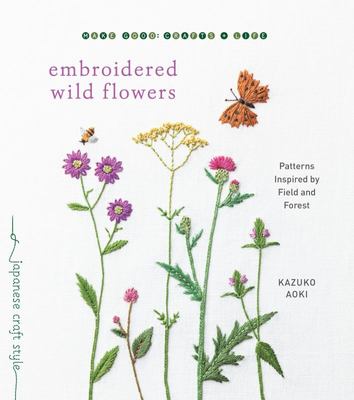 $36.99
AUD
Category: Craft & Hobby | Series: Make Good: Japanese Craft Style Ser.
From dandelions and violets to mushrooms and autumn leaves, this collection of embroidery motifs is inspired by nature walks. Inspired by the wonder and beauty of the natural world, the embroidery motifs offered here evoke wildflower meadows and woodland walks. With lifelike yet whimsical plants and flo wers, as well as mushrooms, leaves, trees, and birds, the flora and fauna presented here offer a delightful and beautiful range of motifs drawn from nature. Featuring beautiful photographs, clear step-by-step instructions, and detailed diagrams, this book will be an inspiring guide for those new to embroidery and a fresh and unique offering for those experienced with needle and thread. ...Show more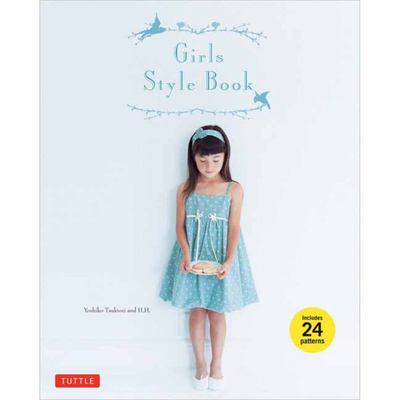 $29.99
AUD
Category: Craft & Hobby
Sew cute and original clothes for your little girl with this stylish sewing book. Popular Japanese author and designer Yoshiko Tsukiori brings unique new designs and style to the do-it-yourself sewist that make it easy to create the kind of clothes little girls adore. Japanese Sewing book "Girls Style B ook" (in English) offers 24 full-sized patterns in five sizes for some of the cutest dresses, tops, outfits and accessories for girls from ages 4-10. Already loved by aficionados of Japanese fashion, this book has something for every girl's taste: relaxed, comfortable clothes that are as fun to wear as they are to look at. Projects include a wide variety of DIY-sewing dresses, tops and pants Balloon-skirted dress with matching mini-bag Classic pinafore jumper with matching bolero jacket Pretty A-line tunic with matching pants Straight and simple sun dress Summery camisole top with matching pants and hatThe patterns can be adjusted to suit your little girl's shape and size. Clear, concise diagrams and instructions make these children's clothes so easy to sew, the hardest part will be deciding what to make first! There's nothing quite like dressing your little girl in clothes she adores--made with love, made by you. ...Show more
$39.99
AUD
Category: Craft & Hobby
What you wear on your wrist can be more than merely functional. Eschewing the common categories of the "classics," the ostentatiously high-priced, and the "blingy," this book brings together individualist pieces that few have seen and even fewer own.Retro Watches is a collector's guide for those who wan t to make a statement with the watch they wear, but who are looking for something a little different. It collects the most intriguing, visually striking, and out-there watch designs from little-known but influential watch brands, along with overlooked but brilliant pieces from the major players. Over one hundred watch models are featured, specially photographed for the book and accompanied by accessible, informative texts discussing the watch's design, history, and intriguing features, as well as info panels detailing rarity, value, and other key attributes. Additional breakout spreads dive into the cultural and fashion history of watch design and the many innovations of the '60s, '70s, and '80s.Beautifully presented, Retro Watches is the volume for the watch wearer who wants to stand out from the crowd. ...Show more
$19.99
AUD
Category: Craft & Hobby | Series: My DIY Afternoon
A book jam-packed with creative activities tomake beautiful objects from recycled everydaymaterials.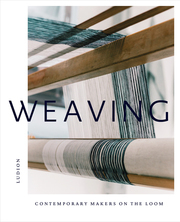 $55.00
AUD
Category: Fashion
Celebrates the revival of weaving with works by influential and contemporary weavers from around the world - An inspiring book for lovers of textiles, interiors and design. Weaving is a centuries-old craft with a fascinating history, and one that continues to evolve. It is being revitalized today by des igners, artists and modern craftspeople all over the world: from wall-hangings and carpets to art installations and technological tours-de-force. Weaving _ Contemporary Makers on the Loom presents a survey of this vibrant revival, with profiles of over twenty contemporary weavers: Alexandra Kehayoglou, for example, designs breath-taking natural landscapes (for the likes of Dries van Noten), while Daniel Harris makes textiles for famous clothing brands using nineteenth century looms. Brent Wadden weaves beautiful, museum-standard fabrics. The book includes beautiful images of their studios, work and inspiration. Author Katie Treggiden_s essays explore the craft_s relationship with themes such as emancipation, migration and new technologies. The Bauhaus weaver Anni Albers is also discussed at length and this is a reference for everyone involved in textiles today. Weavers included Alexandra Kehayoglou Allyson Rousseau Brent Wadden Christy Matson Daniel Harris Dee Clements Dienke Dekker Eleanor Pritchard Erin M. Riley Genevieve Griffiths Hermine Van Dijck Hiroko Takeda Ilse Acke Jen Keane Judit Just Karin Carlander Kayla Mattes Lauren Chang Rachel Scott Rachel Snack Swati Maskeri Tanya Aguiniga ...Show more
$24.99
AUD
Category: Craft & Hobby
"From the international bestselling creator of Lost Oceancomes a beautiful new colouring book that takes you on a wondrous expedition through the jungle. Follow ink evangelist and queen of adult colouring, Johanna Basford down an inky trail through Magical Jungleand discover a forgotten world of flora a nd fauna just waiting to be coloured in. Through intricate pen and ink illustrations, colour-inners of all ages are invited to explore an exotic rainforest teeming with creatures large and small. Encounter speckled tree frogs and dainty hummingbirds, prowling tigers and playful monkeys. Let your imagination run wild in the leafy treetop canopy or find yourself drawn to the delicate world of sensational blossoms and tropical plants below. There are ancient relics to be found along the way, each one leading toward the mystical treasure hidden at the heart of the magical jungle. Only the bravest, most inquisitive colourers will discover what lies hidden at the end of this inky quest. For Magical JungleJohanna has picked a crisp ivory paper that accentuates and compliments your chosen colour palette. The smooth, untextured pages allows for beautiful blending or gradient techniques with coloured pencils, or are perfect for pens, allowing the nib to glide evenly over the surface without feathering." ...Show more
$26.99
AUD
Category: Craft & Hobby
Carve modernizes a mindful hobby that people have turned to for generations to help them slow down, relax, and connect with the outdoors. Choose from a dozen projects with bespoke details, all are designed to be useful at home or while camping. And because these objects are small, they require only a fe w hours and a tool or two to complete. You'll also learn how to choose the right knife and wood, helpful information on techniques and safety, and tips for refining, personalizing and maintaining your piece. Whether you're headed to the woods or just to the porch, this pocket-sized guide will have you carving your own unique designs in no time. ...Show more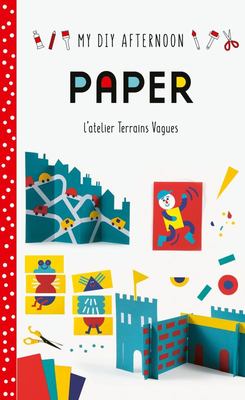 $19.99
AUD
Category: Craft & Hobby | Series: My DIY Afternoon
Eight creative activities to create pop-up cards, a mix-and-match card game, an accordion and many other 100% paper creations.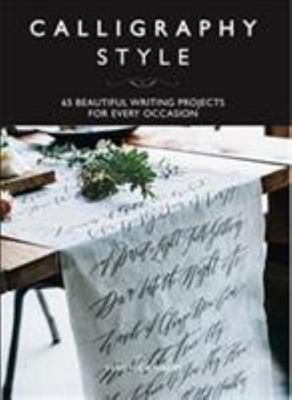 $34.99
AUD
Category: Craft & Hobby
Calligraphy literally translates as _beautiful writing_; it is a traditional skill in many countries around the world, and it has had a contemporary resurgence as a stylish medium for creating artwork. The book starts with the basic techniques and helps the reader progress th rough to 65 projects, incl uding 18 practical step-by-steps and tips on the best materials to use and the stroke sequences for different scripts. Calligraphy Style guides the reader from the essential beginner_s techniques through to applying handwriting skills to make personalised labels, invitations, menus, greeting cards and much more. Not only practical, Calligraphy Style is aspirational, inspirational and a true work of art. ...Show more
How to Build a Shed
by Sally Coulthard; Lee John Philips (Illustrator)
$24.99
AUD
Category: Craft & Hobby
Ever dreamed of having your very own garden retreat? Off-the-shelf sheds aren't always the answer - the cheap ones are badly made and freezing cold, and the better quality ones are really expensive. But what if you could build your own shed from scratch? How to Build a Shedis the ultimate practical guid e.   With its clear, easy-to-follow instructions, expert advice and specially commissioned illustrations, you'll be able to source the materials, choose the right tools and build your dream shed on a budget - even if you've never used a hammer. ...Show more