$29.99
AUD
Category: Mind Body Spirit
Busy minds need a place to rest. Whether you find yourself struggling to sleep, awake in the middle of the night, or even just anxious as you move through the day, in Nothing Much Happens, Kathryn Nicolai offers a healthy way to ease the mind before bed: through the timeless appeal of classic bedtime st ories. Already beloved by millions of podcast listeners, the stories in Nothing Much Happens explore and expose small sweet moments of joy and relaxation: Visiting the local cider mill in the autumn. Watching the tree lighting in the park with friends in the winter. Sneaking lilacs from an abandoned farm in the spring. Watching fireflies from the deck in the summer. Closing up the book shop for the night and opening the bakery in the morning. You'll also find sixteen new stories never before featured on the podcast, along with whimsical illustrations that expose sweet little moments of peace and joy. Using her decades of experience as a meditation and yoga teacher, Kathryn Nicolai creates a world for you to slip into, one rich in sensory experience that quietly teaches mindfulness and self-compassion, soothes frayed nerves, and builds solid habits for nurturing sleep.   ...Show more
$35.00
AUD
Category: Mind Body Spirit
In hardback for the first time, this 10th anniversary edition of the game-changing #1 New York Times bestseller features a new creative journal and a new foreword. For over a decade, Brené Brown has found a special place in our hearts as a gifted mapmaker and a fellow traveller. She is both a social sci entist and a kitchen table friend whom you can always count on to tell the truth, make you laugh, and, on occasion, cry with you. And what's now become a movement all started with The Gifts of Imperfection, which has sold over two million copies in thirty-five different languages across the globe. What transforms this book from words on a page to effective daily practices are the ten guideposts to wholehearted living. The guideposts not only help us understand the practices that will allow us to change our lives and families, they also walk us through the unattainable and sabotaging expectations that get in the way. Brené writes, "This book is an invitation to join a wholehearted revolution. A small, quiet, grassroots movement that starts with each of us saying, 'My story matters because I matter.' Revolution might sound a little dramatic, but in this world, choosing authenticity and worthiness is an absolute act of resistance." ...Show more
Dot
by Kieran E. Scott
$19.99
AUD
Category: Mind Body Spirit
Are you feeling a little bit (or a lottle bit) anxious?Meet DOT, who's here to help. In this beautiful little hand-drawn book, DOT offers a practical way to comfort and calm anyone anxious, stressed or overwhelmed. For anyone (big or small) who wants to take a moment and some nice, deep breaths.
$34.99
AUD
Category: Mind Body Spirit
In This One Wild and Precious Life, Sarah Wilson explores the central disorder of modern existence: disconnection from ourselves, disconnection from community, disconnection from the preciousness of life on this planet  This One Wild and Precious Life is a journey of the soul, a case for why we need to cast off our too-tight psychic apparel and step bravely into the uncertainty of 'giving a fuck', the whirlpool of finding purpose, and the perilousness of connecting fully, passionately and unequivocally to life again. Sarah's journey pivots from her own anxiety and feeling of disconnection, as she takes the reader on a three-year odyssey to reconnect with the life she feels we are losing via a series of hikes around the world. Throughout, she brings together science and spiritual understandings ('East meets West'), following in the footsteps of artists, poets and philosophers, to amplify the conversation that the world wants and needs to have right now. Elegantly written and uncannily prescient, this is the perfect book for this difficult era of climate carnage and COVID-19, that goes well beyond the data and the political toing and froing, a compelling argument for turning collective crises and shared malaise into rocket fuel for personal and social transformation. And a better world.   ...Show more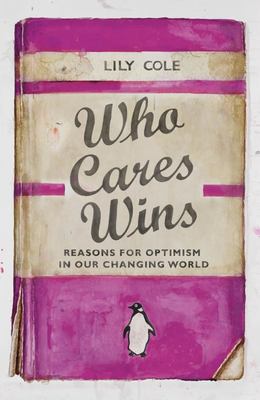 $35.00
AUD
Category: Mind Body Spirit
Optimism demands action. Optimism is an active choice. Optimism is not naïve and it is not impossible. We are living in an age of turmoil, destruction and uncertainty. Global warming has reached terrifying heights of severity, human expansion has caused the extinction of countless species, and Neolibera lism has led to a destructive divide in wealth and a polarisation of mainstream politics. But, there is a constructive way to meet this challenge, there is a reason to keep on fighting and there are plenty of reasons for optimism. Lily Cole has met with some of the millions of people around the world who are working on solutions to our biggest challenges and committed to creating a more sustainable and peaceful future for humanity. Exploring issues from fast fashion to fast food and renewable energy to gender equality, and featuring interviews with Stella McCartney, Sir David Attenborough, Elon Musk and Extinction Rebellion co-founder Professor Gail Bradbrook, Who Cares Wins is a beacon of hope in dark times. This book is a rousing call to action that will leave you feeling hopeful that we can make a difference. We are the ancestors of our future: a generation who will either be celebrated for their activism or blamed for its apathy. It is for us to choose optimism, to make a change and to show what is possible. ...Show more
$35.00
AUD
Category: Mind Body Spirit
What do lace makers share with pulmonary surgeons? Saville Row tailors with molecular scientists? Jazz musicians with fighter pilots? Seemingly, they have little in common, other than being skilled at what they do. But the expert on experts, Professor Roger Kneebone, has spent his life finding the point s of connection. As he shows, while the outcome is always different, the journey to expertise is always the same. From 'doing time' as an Apprentice, knowing nothing and learning by copying how things are already done, through setting out on your own as a Journeyman, developing your own voice and taking responsibility for your work, to finally becoming a Master and refining your knowledge through passing it on to future generations, Kneebone articulates a path we're all following - and there's comfort in locating yourself, understanding how far there is to go, and seeing how far you've come. Drawing on cutting-edge research, including his own work with a variety of extraordinary experts from taxidermists to neurosurgeons, and a tradition of learning established in medieval workshops, in this ground-breaking book, Professor Kneebone reveals with colour and panache the symbiotic system that creates and sustains experts, whatever their field, and explains how you can become one yourself, whether you're learning a language, giving a presentation, or simply becoming the person you want to be. ...Show more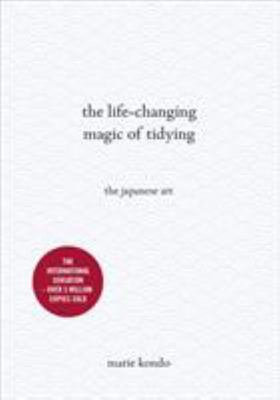 $35.00
AUD
Category: Mind Body Spirit
This is a beautiful hardback edition of Marie Kondo's classic book, complete with a wrap-around red elastic ribbon to keep the book closed in between reading. Transform your home into a permanently clear and clutter-free space with the incredible KonMari Method. Japan's expert declutterer and professio nal cleaner Marie Kondo will help you tidy your rooms once and for all with her inspirational step-by-step method. The key to successful tidying is to tackle your home in the correct order, to keep only the things you really love and to do it all at once âe" and quickly. After that for the rest of your life you only need to choose what to keep and what to discard. The KonMari Method will not just transform your space. Once you have your house in order you will find that your whole life will change. You can feel more confident, you can become more successful, and you can have the energy and motivation to create the life you want. You can also find the courage to move on from the negative aspects of your life. For example, you can recognise and finish a bad relationship, stop feeling anxious or finally lose weight. Marie Kondo's method is based on a 'once-cleaned, never-messy-again' approach. If you think that such a thing is impossible then you should definitely read this compelling book. Alternatively, if you want to share The Life-Changing Magic of Tidying with your friends and family this lovely edition is the perfect gift. ...Show more
$32.99
AUD
Category: Mind Body Spirit
For the light seekers and the love givers. This one is for you. For anyone who has ever loved and lost. This one is for you. For the sensitive souls, the magic makers, the time takers. This one is for you. May this book brighten your shadows, illuminate your path and walk you home to yourself. Sjana El ise Earp inspires thousands of people around the world with her infectiously joyful approach to life. But happiness hasn't always come easily. During her recovery from her experiences of anxiety and depression, writing has been Sjana's tool to reflect, find gratitude and grow through her emotions. Now, she's ready to share her vulnerability in her first published collection of poems and photography, and help lift up her sisters too. Dip in during moments when inspiration or comfort is needed, or take a cover-to-cover journey through Sjana's tender words and beautiful images of nature's wonders. Either way, you'll feel grounded, calmer and more connected to the unique power within you. And you, too, will rise. ...Show more
$29.99
AUD
Category: Mind Body Spirit
People spend a fortune on their bodies, their faces, their hair, their clothes. Cosmetics, plastic surgery, diets, gym membership - everyone's trying to be more attractive. But there's an easier way to become a beautiful person. It doesn't have to be physical. No matter how you look, if you have a mind that's fascinating, creative, exciting - if you're a good thinker - you can be beautiful. Being attractive doesn't necessarily come from being intelligent or highly-educated. It isn't about having a great personality. It's about using your imagination and expanding your creativity. And it's when talking with people that we make the greatest impact. A person may be physically beautiful, but when speaking to others a dull or ugly or uncreative mind will definitely turn them off. In clear, practical language, de Bono shows how applying lateral and parallel thinking skills to your conversations can improve your mind. By learning how to listen, make a point, and manoeuvre a discussion, you can become creative and irresistible. ...Show more
$35.00
AUD
Category: Mind Body Spirit
The definitive book to help you achieve new dimensions of stress-free living from the master of modern meditation Deepak Chopra For the last 30 years, Deepak Chopra has been at the forefront of the meditation revolution in the West. Total Meditation is the culmination of his teachings, a complete explor ation of the physical, mental, relational and spiritual benefits that these profound practices can bring. With his signature clarity, Chopra guides readers on how to cultivate a clear vision, heal suffering from the mind and body and help recover who you really are. Bringing together groundbreaking new research on meditation and its benefits Total Meditation offers a daily program of meditations to help revolutionize every aspect of our lives. ...Show more
$24.99
AUD
Category: Mind Body Spirit
First there was hygge, now there's Niksen - a simple Dutch philosophy for anyone looking to slow down, relax and daydream. Press pause to pre-empt burnout and claim your life back.
$24.99
AUD
Category: Mind Body Spirit
When a global crisis has got you down, brighten your day with a sh*tload of color Save humanity and your sanity by coloring through a collection of incredible works of art. When you're tempted to come into contact with other humans, rewash your hands, retreat to your creativity cave, and color the sh*t out of these illustrations instead Enjoy the tranquility of staying six feet away from loved ones while getting up close and personal with your imagination. Let your social distancing shine and channel your inner introvert with Stay the F*ck Home and Color - Flatten the curve and boost your mood with more than 35 soothing illustrations- Sanitize your colored pencils and gel pens and get your coloring on - Do your part and comingle with nobody but art ...Show more